"Don't judge a book by its cover" is often heard, but preconceptions are often made based on photos when scanning on dating apps. Now you can prioritize your personality with Bantr by Bumble.
Bumble, the dating and social networking app for women, partners with Apple's Emmy-winning comedy Ted Lasso to bring the Bantr Experience, the fictional dating app featured on the show, to life.
Starting tomorrow at 7 p.m. AEST, you'll be able to access a weekly Bantr Live experience for free in Bumble's Date Mode. Ted Lasso's dating experience will mirror the same format as on the show, meaning daters will now conduct their "chat" to find a genuine connection – with profile pictures blanked out for the first three minutes of messaging.
Olivia Yu, Global Vice President of Partnerships, said, "As big fans of 'Ted Lasso', we were thrilled to bring the Bantr Live experience to our community. Bantr Live allows our community to connect with someone unexpected and learn more about someone before we see them. We look forward to people at Bumble having fun with Bantr Live and connecting and dating in new and exciting ways.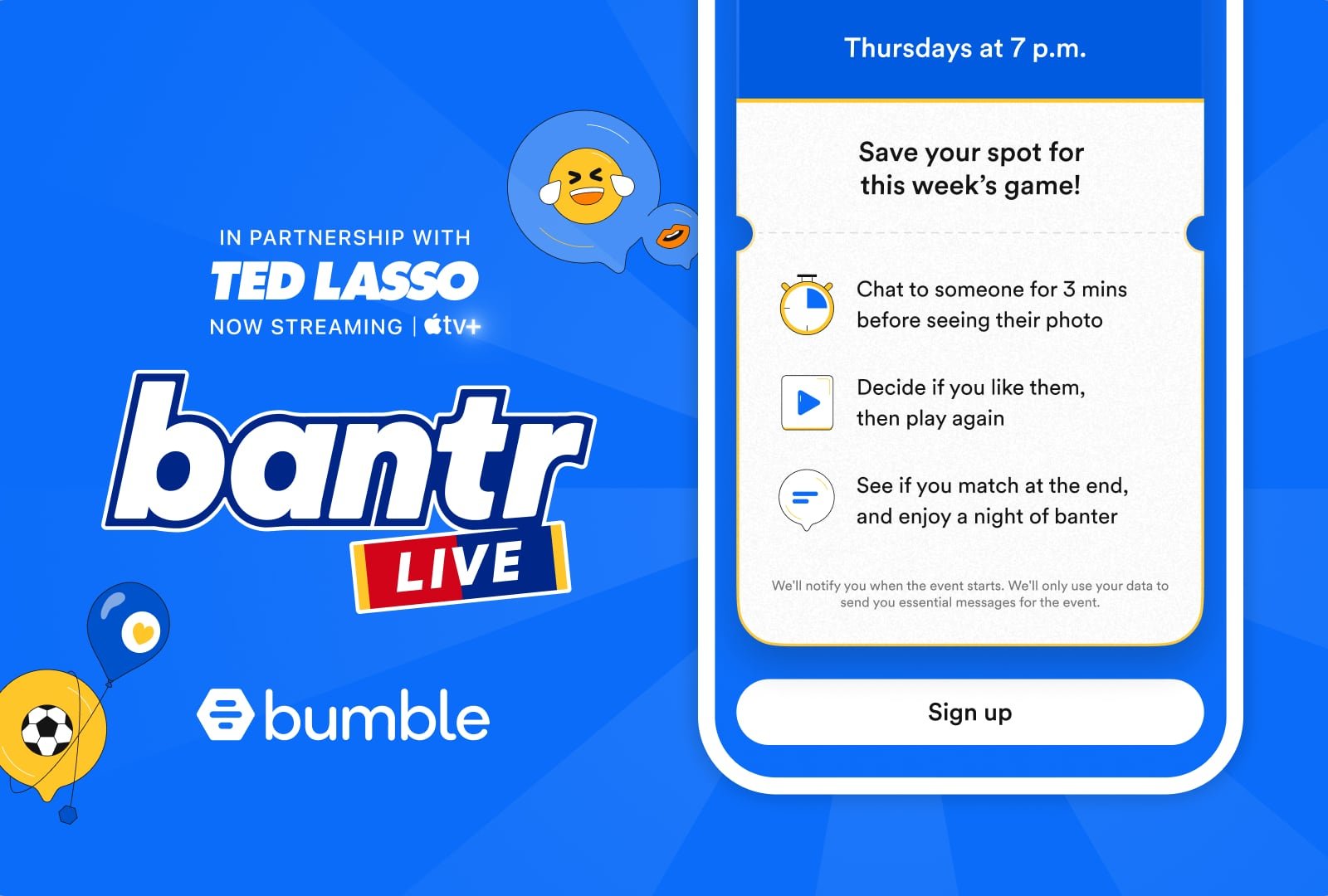 Top 5 Bantr Conversation Starters
To help daters break the ice and bring their best chat, Bumble has revealed its top five Bantr conversation starters:
Would you rather…fight a bear or a shark?
What's the worst thing you've ever done that your parents caught you doing when you were a teenager?
Play a speed trick of two truths and a lie. Go!
Kiss, marry, kill: queso, guacamole, salsa?
OK Tell me; what is the most extreme challenge you have ever accepted?
Lucille McCart, Bumble's Director of APAC Communications, said: "Someone's appearance is only a small part of the story, there is so much more to learn about a potential mate than just appearances. In fact, our most recent research revealed that three users in five (57%) of Bumbles now prioritize emotional availability and a quarter (24%) care less about their partner's physical appearance.
"Bumble's new in-app Bantr experience is a fun way to encourage people to connect with their matches on a deeper level where they can gauge compatibility on shared interests and personality rather than focusing on the look. Now is the time to remember that dating is supposed to be fun, and this is a fun new way to get started.
More reading: